S
outh Caroli
na Mid
lands Volleyball
Director's Message
2012-2013
On behalf of our program, welcome to our club staff page.  Our goal at South Carolina Midlands is to provide a quality club experience for our athletes, our parents, and our co
aches. Whether you are venturing into our Kids Power
p
rogram,
pursuing
boys' volleyball
, or
aspiring
for the elite
experience, South Carolina Midlands is committed to
providing coaches who will help
athletes
learn the sport and achieve t
heir goals.  Additionally, we
realize the need for various areas of specialization and expertise, as well as the added value of club to college exposure and proximity. 
Thus, in 2012, we have added a strength trainer for elite teams, a recruiting specialist, as well as coaches with collegiate, school, and club experiences.  Her
e are just a few of our coaches and/or staff.  Additonally, detailed bios will be added to the already existing list below:
Strength, Power, & Agility Trainer - Dr. Mike Armstrong 

NEW in 2012!

Recruiting Specialist, Club Coach - Jarne Gleaton

NEW in 2012!
Fundraising Chair -Teri Anton


Administrative Assistant - Janna Taylor

Club Liaison - Lisa McDowell

Club Coach - Samantha Parrish

Club Coach - Danielle Randolph


Club Coach - Aubrey Dooley

Club Coach - Donee Taylor

Club Coach - Megan Aeillo


Club Coach - Rebecca Fischer

Club Coach - Amanda Stewart



SC Midlands is excited about kicking off the new season.  We are confident that these specialists and new coaches will bring added value to your experience at South Carolina Midlands.  Looking forward to meeting and working with each and every one of you.

Sincerely,
Cynthia Dimapan

---
Club Director
&
Coach
Cynth
ia Dima
pan
Cynthi
a Di
m
apan
is in her ninth year as director of South Carolin
a Midlands Volleybal
l,
f
ormerly South
C
a
ro
li
na Juniors.  She has coached with the program since it
started with tw
o
teams
in a sma
ll ch
u
r
ch
g
ym in 2002. With steady expansion of the program,
the club
m
oved
to a
mu
lti-court
facilit
y in 2004. 
Joining forces with former USC Game
cock
Coaches a
n
d Mid
lands V
o
lleyball Di
rectors,
B
en and Nancy Somera in 2010, Dimapan is now the
director
of what use
d
to be to midlan
ds clubs
. 
Dimapan is IMPACT and CAP
cer
tified thro
ugh
USA Vo
lleybal
l, cer
tifi
ed
through
the Positive Coaching Allia
nce (PCA), and a longtime member
of t
he American Volley
ball Coaches Association (AVCA).  Dimapan has extensive coaching experience at the high school
,
middl
e school, and club levels. Since 200
2, nine teams under Dimapan's direction have made
it to 3rd pla
ce or higher finishes at the Palmetto Regional Sta
te Cham
pionships. Her most commo
n rivals have be
en Ch
arleston Juniors,
Carolina Islanders, and Club South. 
In 2012, Dimapan's
13 Elite team eventually became the highest placing 13's tea
m from the
midlands of South Carolina.  T
his team went on to win their division in the AAU National Championships.  Additionally, her 14 Elite t
eam won the 2011 Northeast National Qualifier in Baltimore, Maryland, and attended USAV Nationals in Atlanta.  In terms of school ball, Dimapan has coached across the globe since 1999 winning various interscholastic championships in Guam, Texas, and South Carolina. Dimapan has accrued a total of EIGHT school championships in her career, several with undefeated seasons.
 One of her
favorite coaching memories is a Cinderella story of taking a 1-7 down and out 7th grade team, and turning them around in just one season. As 8th graders, that team went on to win the El Paso Independent School District Championship.  They later attended the Middle School City Championships where they placed 2nd out of the top 36 teams.  Cynthia is married to Glen Dimapan, and they have two boys named Matthew and Christopher.
---
NEW Strength & Conditioning Coach
Dr. Mike Armstrong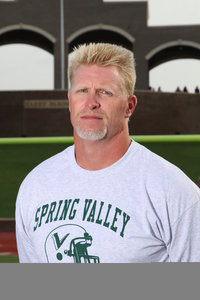 Dr. "Coach" Mike Armstrong  has served as a strength and conditioning instructor f
or 23 years in several capacities at schools such as the University of South Carolina, Georgia Tech
,
Irmo High School,  Dorman High School and Spring Valley High School. He graduated from US
C in 1990 with a Bachelor of Science degree in Physical Education with an emphasis in
exerci
se ph
ysiology and biomechanics. He played tackle for the Gamecocks, lettering twice. Coach
Armstrong has his Masters in Secondary Education from USC and his Doctorate in Education with an emphasis in Sports Management from the United States Sports Academy.  Coach Armstrong
is a National Board Certified teacher, a Certified Strength Specialist with USA Weightlifting and is
SPARQ Certified. Mike Armstrong was named AFLAC National Assistant Coach of the Year for 2002. Coach Armstrong stresses the need for a structured S & C program for athletes for two reasons: 1) to decrease the potential for injury and 2) to maximize performance.
Despite skill level, maximum performance in volleyball is contingent upon  great agility, balance, speed and power.


---
Coach Glen Dimapan

Glen Dimapan has coached with SC Midlands, formerly SC Juniors, since the clu
b began in 2002.  He has coached all levels of the club from Kids Power, Region, Performance, to Elite teams of all ages.  Having been to Nationals twice, as a head coach and as an assistant coach, Glen has also taken numerous teams to AAU Nationals since 2002.  Dimapan is IMPACT Certified and CAP Certified through USA Volleyball's Coaching Accreditation Program.  Glen has assisted at various high schools and middle schools in Guam, Texas, and South Carolina.  Having played both indoor and outdoor volleyball at the A, AA, and Open levels, additional accollades include: Participating in the US Open Volleyball National Championships in the Men's A Division in 2004, Palmetto Region Men's A Region Champions, several first place finishes in both Men's AA & A Tournaments, and Columbia Coed Power League Champions for five seasons. 
You can also find Dimapan working the scoreboard, and/or scorekeeping at the University of South Carolina home games.
---
Coach & Recruiting Specialist Jarne Gleaton

Jarne Gleaton is a proud alumni of our program, and is looking to return with strong contributions for athletes looking to play at the collegiate level. 
She recently served as

the 18U head coach with a fellow club program where she was responsible for training outside hitters, right sides, middles, team defense, as well as team offense.  As the leading coach of her program, Jarne organized multiple volleyball clinics, conducted drills for college coach evaluations, and facilitated multiple scholarship offers for several of her players both at the Division I and Division II levels.  As a volunteer coach at the high school level, Jarne provided insight on effective practices, game like drills, and game preparation.
  Prior to starting her coaching career, Jarne played as a four year standout at Airport High School for both volleyball and basketball.  She was named to the North-South All-Star Game, and the Most Valuable Player of the South All-State as a senior.  For club, she played on our 18's Elite team that facilitating her four year scholarship to South Carolina State.  While at State, Jarne played as an outside hitter. 
She was kill leader for her team and ranked number one in the Mid-Eastern Athletic Conference (MEAC) for kill percentage as a senior. Additional accolades include: The second all-time kill leader in South Carolina State, the fifth all-time ace leader, third for 20 kills or more in a match in the MEAC,  Player of the Year for the MEAC 2010, MVP of the MEAC 2010 Tournament,1st Team All-Conference, the All-Tournament Team, as well as the MEAC Volleyball Championship in 2010.
---
Megan Aiello comes to us with over 11 years of collegiate coaching experience.   Looking to be a dynamic contributor to the South Carolina Midlands coaching staff, Aiello has coached
20 All Conference and All Academic players, won a regular season championship, and been honored as Coach of the Year. 
She graduated from Anderson College with a B.S. in Physical Education in 2001, and later attained a Master's in Education from Bluffton College in 2003.
---
Jeff Meagley will be serving as an Elite team head coach this year.  His experience involves 23 years of playing and coaching for the United States Marine Corps, as well as playing indoor and outdoor men's and co-ed at the A,AA, and Open levels.  Jeff has played international indoor and outdoor volleyball in Japan, Korea and Sicily.  He was selected to the All Marine team nine times, and has played all positions.  Coaching experience involves coaching base teams at Cherry Point, NC and Beaufort, SC.  He served as the head coach with our 16's team two years ago, and has assisted with Elite team training at all levels since his initial involvement with the club.  Jeff has been IMPACT certified, CAP certified, PCA certified, and has attended clinics at the high school level.  
Jeff currently coaches at a local high school and helps to run a great program.
---
Ciji Kuhlmann grew up in Harrison, Ohio and received her Bachelor's Degree from Bowling Green State University.  In Ohio, Ciji was involved in her high school's volleyball and softball teams.  Since graduating from college and moving to South Carolina, Ciji has been involved in coaching.  Currently, she is in her 5th year coaching junior varsity and assistant varsity volleyball for a local high school.  In addition to high school coaching, Ciji currently teaches 8th grade mathematics.  This will be her second year coaching for SC Midlands.
---
Coach Bob Watson
Bob Watson has been an avid member of our club.  Within the past few years, he has coached our 17's National Team, 14 Elite, as well as our 13 Performance Team.  In terms of school volleyball, Bob is a member of the Cardinal Newman coaching staff.  He is the winningest coach in the history of the school.  Amassing over 650 wins as a head coach in four different varsity sports (girls' basketball, boys' basketball, baseball, and volleyball), Bob's resume includes six state championships, nine state runner-up titles, and twenty region titles.  Bob has been named Coach of the Year twelve times in the Palmetto Athletic Conference, the South Carolina High School League, and the South Carolina Independent School Athletic Association.  He's coached numerous Division I athletes in multiple sports and several who went on to the professional level.  Most recently, Bob was named the 2012 SCISA 3A Region Volleyball Coach of the Year, and on October 7, 2012, he was inducted as an athlete and coach into the Inaugural Cardinal Newman Athletic Hall of Fame.
---
Candi Duke Watson is a native of Columbia and graduated from Cardinal Newman in 1988.  While a student at CN, Candi played volleyball, tennis, and basketball and was the first CN volleyball player to earn a college scholarship.  She coached CN's first junior varsity volleyball team in 1990 and graduated from Columbia College in 1991 with a B.A. in English education.  Candi began her varsity coaching career at Spring Valley High School from 1991-1995, where her teams won the region IV AAAA championship all 4 years.  Candi has coached several Division I athletes, including a two-time Olympic Gold medalist.  She has been a teacher, coach, and administrator at CN since 1997 and is currently the Dean of Faculty.  Candi is married to Bob Watson, and they have 4 children- Alex, Kody, Kendall, & Logan.  Candi & Bob have had a daughter playing for SC Midlands for the last 9 years, and they have coached 17 Elite, 13 Performance, 14 Elite, and 15 Elite, with several top 5 finishes at the Palmetto Regional Championships.  Two of their players, Claire Edwards & Kendall Watson, made the USA High Performance teams and competed in Des Moines, Iowa at the High Performance Championships in July.
---
Samantha Parrish comes to us from Angola, Indiana. She is a current standout at the colle
gia
t
e l
evel majoring in English. Parrish has coached clinics for Dick Powers Volleyball (from Ball State University), and coached club teams for Performance Plus in Fort Wayne, Indiana.  Currently, Samantha plays at Newberry College where she
is the team leader in kills (382), k/set (3.41), digs (355),
d
igs/set (3.17).  She is second on the team with 45 blocks and third on the squad with 29 serv
ice aces. 
Prepped by Julie Dunham, Samantha competed at the varsity level for three years. She holds the Angola High School records for kills per game and kills per season.  Additional accolades include: 2009 leader in kills in the Indiana NECC Conference, all-area and all-conference laurels for three years, MVP of the Angola High School volleyball team in two of her three seasons, 2009 Prep of the Year
,
academic all-state honorable mention, three years on the varsity tennis team, team MVP in 2008.  Academically, Samantha's achievements included the National Honor Society, Spanish Club, Student Council serving as Class President for three years.  Samantha looks forward to becoming a strong coach and contributor at SC Midlands.


---

Danielle Randolph comes to us from Fort Mill, South Carolina. She is a graduate from the University of South Carolina with a Bachelor of Science in Physical Education.
Currently teaching physical education and coaching volleyball at Stover Middle School, Danielle was
intrigued by volleyball at a young age.  She played for Carolina Juniors in Charlotte, North Carolina at both the regional and national levels. Earning a bid into USA Volleyball Nationals, she and her team attended the 2004 National Championships in Houston, Texas.
  Randolph's playing experience involves the middle school, high school, junior club, and college club levels. 
---
Aubrey D
ooley is an exciting addition to our coaching staff.  Currently a setter for the women's tea
m at Presby
terian College, Aubrey is looking to add mentorship, exposure, and pro
ximity for athletes seeking to
raise their levels of play.  As a setter, she quarterbacked her high school and club teams to success.  Do
oley
attended Lexi
ngton High School and her high school achievements include:  Most Improved Player as a freshman,
MVP as a
senior,

Region 5-AAAA championships (2007, 2008 and 2009
0, Lower State Champions, 2010 5-AAA All-Region team, All-Star game selection, National Honor Society, and the Allan Whitacre Awar
d, given to the athlete with the highest GPA at Lexington High School.  While playing for Magnum Mizuno, Dooley earned
Palmetto Region team honors in 2007 and 2010.  Aubrey was a
Palmetto Region Champion in 2010 and 2011.  She qualified for the United States Vo
lleyball (USAV) National Championships. 
---
Coach Donee Taylor
Donee Taylor graduated from Columbia College in 2007 with
a Bachelor's degree in Elementary Education.  She has been a proud member of the Forest Heights faculty for the past six years, and comes to us with four years of coaching experience.  In addition to playing at the collegiate level for Columbia College, she coached for Magnum Volleyball Club as a head coach as well as an assistant for their 15's team for three years.  She was an assistant at the elite level.  Additional coaching experience involves three years at Gibbs Middle School, two years of coaching youth volleyball leagues, as well conducting introductory volleyball clinics for The City of Columbia Parks and Recreation. 
---

Amanda Steele will be in her fourth year coaching at SC Midlands.  She is a physical education instructor and former volleyball coach at the middle school level.  She is physical trainer at Gold's Gym, coaches middle school basketball, and she has recently moved up the ranks earning a junior varsity and assistant varsity coaching position at a local high school. 
Amanda enjoys participating in competitive roller derby in her spare time.


---
Coach Nicole Randolph


Nicole Randolph is from Fort Mill, South Carolina.  She graduated from USC with a degree in Elementray Education and currently teaches at the elementray level. Randolph currently coaches varsity volleyball at Swansea High School and has been the head coach for the past four years.  Starting at the middle school level, Randolph eventually played for Fort Mill High School as well as Carolina Juniors in Charlotte, North Carolina.  Playing at both the regional and national levels, Nicole and her team earned 2 bids to Nationals.  Nicole has coached and assisted in several school and club summer camps in both North and South Carolina.

---
Coach Gordon Kirby


Gordon Kirby
has coached middle school, high school, college and travel volleyball teams for over ten years.  He has also worked volleyball camps in numerous states.  He has served as an assistant volleyball coach at South Carolina State University, as well as the women's and men's assistant volleyball coach at Mount Olive College in Mount Olive, NC. In 2004 he was the assistant volleyball coach at Cape Fear Community College in Wilmington, NC. Kirby coached volleyball camps in Virginia, Minnesota, North Carolina and South Carolina.
  Throughout his coaching career, Kirby has helped lead his teams to various awards. In 2005 Mount Olive College won its first-ever Carolinas-Virginia Athletics Conference Title. In that same year the team advanced to the 2005 NCAA Division II Atlantic Region Championship.
In 2004, Kirby helped lead Cape Fear Community College to it's first-ever Carolinas Junior College Conference (CJCC) Title, earning them a spot at the National Junior College Athletic Association (NJCAA). The team won the CJCC Regular Season and Tournament Titles going 14-2 in the conference and 24-7 overall.
  Kirby is a 1999 graduate of Virginia Commonwealth University where he earned a Bachelor of Science degree cum laude in health and physical education, K-12.
---
Amanda Kruysman, formerly Amanda Barfield, has been coaching with SC Midlands for 3 years. She is originally from Fort Mill, SC and played with Carolina Juniors National teams in Charlotte, North Carolina. Kruysman attended Clemson University, and now works at Westwood High School. She is the Varsity coach at Westwood, and has previously coached at Richland Northeast High School and Dent Middle School.  Amanda has coached 13U and 15U teams. She has also assisted with multiple ages. Her 15 Elite team won multiple division championships in the 2012 season and won their division at the 2012 AAU National Championships in Orlando.
---
Coach Rebecca Fischer
Rebecc
a Fische
r comes to us from Fort Mill, South Carolina. Previously coaching with Carolina Junio
rs Volleyball out of Charlotte, North Carolina, Fisher is currently a student athlete at Newberry College.  She is studying Middle Level Education with a minor in the Spanish language. She has played various positions throughout her high school career, and Fischer is now a defensive specialist on the Newberry women's volleyball team. Fischer is ready to start the new club season and looks forward to working with the parents and players at SC Midlands.  Her hope is that her passion for the game will allow younger player to thrive through the sport of volleyball.
---
Coach Janna Taylor


Janna is in her second year of coaching at SC Midlands and will be coaching Kids Power.  She has played both volleyball and basketball since an early age and played both sports throughout middle school and high school.  She began a career in insurance shortly after high school, and continued playing over the years with different adult recreational leagues.  Janna was born & raised in Northern Illinois and has lived in South Carolina since 2005.  Her family, which consists of her husband, Tim, and daughter, Natalie, reside in Elgin, along with their large brood of rescue dogs...14 to be exact! 
---
Club Liaison Lisa McDowell


Having served as a head coach as well as an assistant coach at SC Midlands, Lisa brings a wealth of experience to the SC Midlands community.  Having had roles as both parent and coach, Lisa will be serving as a Club Liaison this year.  We know that Lisa's relationship with parents will be a driving and positive force for the club this year.  She is a wonderful mom, and a coach.  She has coached at Mullins High and currently coaches at Blythewood Middle School.  Lisa
has earned numerous accolades including Region Championships, Region Coach of the Year, and Sun News Coach of the Year Awards.
---
Former Coaches

South Carolina Midlands Volleyball has a rich history.  Over the years, our
leadership has included Dr. Gylton B. Da Matta, as well as renowned and legendary coach  of Lexington High School Chee Lee. Additionally, our staff has recently included coaches with NCAA Division I
head coaching and assistant coaching experience in the top volleyball conferences in the country; ex-college athletes who set a variety of records and received All-Conference and All-Ame
rican honors; and other passionate CAP certified coaches who have been proven winners at the middle, high school, and club levels.  We
are proud of this history, and we are just as
proud about the awesome lineup that we have in store this year!  Club staff can sometimes change, but the one thing that remains constant is SC Midland's sincere dedication to teaching and training volleyball to youth in the Midlands!
---
Please email us at info@scmidlandsvolleyball.com if you are interested in
pursuing coaching opportunities with SC Midlands!